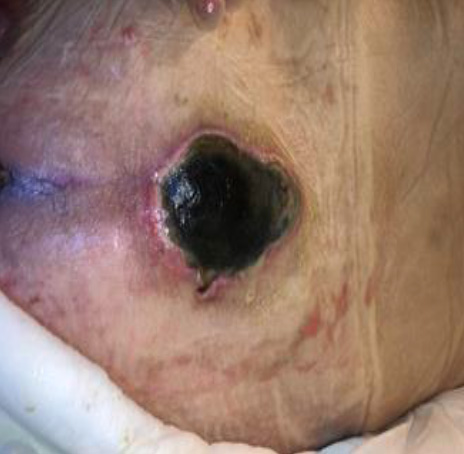 What is an Unstageable Pressure Injury?
When unrelieved pressure causes damage to the skin and underlying structures, an ulceration can develop, known as a pressure injury. There are many factors that can contribute to the development of a pressure injury such as friction, shear, moisture, pressure, limited mobility, obesity, or other comorbidities. Unstageable is : a a an obscured full-thickness skin and tissue loss. One cannot determine the extent of injury as the whole
wound bed cannot be visualized because it is fully or al partially covered with slough or eschar.
Photo credit: ASWC
How do you identify it?
Pressure injuries tend to occur over bony prominences on the body such as the shoulders, elbows, hips, sacrum, buttocks, ankles, heels and toes. In Unstageable pressure injuries, the wound is either a Stage III or IV but it is either fully or partially covered with slough or eschar. Once the whole wound bed can be visualized, then the wound can be re-classified as either a Stage III or IV.
How do you treat it?
Treatment of Unstageable pressure injuries is the same as all pressure injuries—relieve pressure and prevent deterioration. Pressure relieving techniques such as positioning utilized in Stage | and II injuries apply, as well as the use of a special air mattress and/or foley catheter in Stage III and IV injuries. Slough is treated enzymatically with an enzymatic debridement agent and/or surgical debridement. Stable eschar (i.e. dry, adherent, intact without fluctuance) on the heel or ischemic limb should not be softened or removed—just keep clean and dry with betadine and leave open to air.
i 222 N. Pacific Coast Hwy. Suite 2175 Materials Sourced from: El Segundo, CA 90245 Marriott, R., Gedalia, U., Dhillon, G., Sandoz, C., & Advantage _ 1e877.878.3289 Frazier, T. (2015). Wound Care Essentials. ASWC. SURGICAL & WOUND CARE info@advantagewoundcare.org Wound Educators. (n.d.).