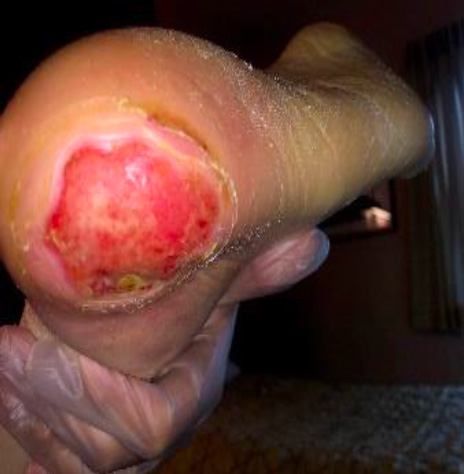 What is a Stage Ill Pressure Injury?
When unrelieved pressure causes damage to the skin and underlying structures, an ulceration can develop, known as a pressure injury. There are many factors that can contribute to the development of a pressure injury such as friction, shear, moisture, pressure, limited mobility, obesity, or other comorbidities. Stage Ill is a full-thickness skin loss with
exposed dermis and adipose (fat) tissue. Photo credit: ASWC
How do you identify it?
Pressure injuries tend to occur over bony prominences on the body such as the shoulders, elbows, hips, sacrum, buttocks, ankles, heels and toes. In Stage III pressure injuries, granulation tissue, slough, and/or eschar are present. However, fascia, muscle, tendon, ligament, cartilage, and/or bone are not exposed. The depth of the wound will depend on the location of the wound on the body.
How do you treat it?
The main goal in treating a Stage Ill injury is to relieve pressure and prevent deterioration. All of the pressure relieving techniques (Such as positioning and managing moisture) utilized in treating a Stage | and II applies. Stage III and IV wounds also qualify for more comprehensive or invasive measures to promote healing such as use of a special air mattress or a foley catheter if the wound is on the sacrum or ischium. There are many ways to manage the wound bed and exudate in Stage III injuries. Slough can be treated with an enzymatic debriding agent or a honey-based ointment. The wound may also require frequent surgical debridement. Moderate to heavy exudate can managed with an alginate or foam dressing. Be sure to monitor for signs and symptoms of infection and treat appropriately.
222 N. Pacific Coast Hwy. Suite 2175 Materials Sourced from:
El Segundo, CA 90245 Marriott, R., Gedalia, U., Dhillon, G., Sandoz, Advantage Tel 877.878.3289 C., & Frazier, T. (2015). Wound Care SURGICAL & WOUND CARE info @advantagewoundcare.org Essentials. ASWC. Wound Educators.