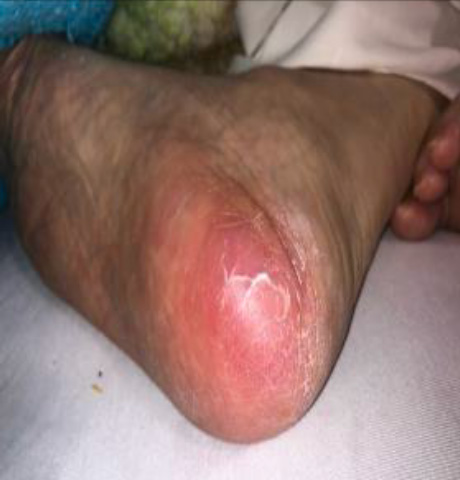 What is a Stage | Pressure Injury?
When unrelieved pressure causes damage to the skin and underlying structures, an ulceration can develop, known as a pressure injury. There are many factors that can contribute to the development of a pressure injury such as friction, shear, moisture, pressure, limited mobility, obesity, or other comorbidities. Stage | is the most superficial type of pressure injury as the
skin is still intact. Photo credit: ASWC
How do you identify it?
Pressure injuries tend to occur over bony prominences on the body such as the shoulders, elbows, hips, sacrum, buttocks, ankles, heels and toes. In Stage I pressure injuries, the skin is intact, however, there is non-blanchable redness (may appear differently in darkly pigmented skin). Blanching is tested by pressing down on the red area with two fingers for five seconds—the area should turn white and then quickly return to pink in color.
How do you treat it?
The main goal in treating a Stage I injury is to relieve pressure and prevent deterioration. Proper positioning is key to relieving pressure over bony prominences. The utilization of pillows and heel protectors can also aid in alleviating pressure. Manage moisture (from incontinence or body sweat) and apply barrier cream to protect intact skin. Encourage mobility and proper nutrition as tolerated or as physically possible for the patient. Educate all caregivers and family so that everyone can be an active participant in the prevention of pressure injuries.
222 N. Pacific Coast Hwy. Suite 2175 Materials Sourced from: El Segundo, CA 90245 Marriott, R., Gedalia, U., Dhillon, G., Sandoz, C., &
Advantage Tel 877.878.3289 Frazier, T. (2015). Wound Care Essentials. ASWC. SURGICAL & WOUND CARE info@advantagewoundcare.org Wound Educators. (n.d.).